Surround Vision
Surround Vision
Surround Vision is a system that uses a mobile device to access other video footage while you watch a main screen.
The project was developed as my master thesis at the Media Lab.
With a Device you can see past your TV frame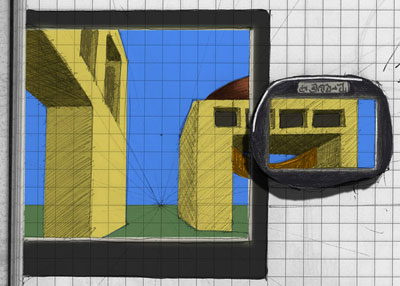 The idea follows a general intention in our group to create a better feeling of immersion when watching television. The metaphor of thinking about your TV more as a window helps explain the idea that the images you see in the TV frame actually continue past the physical TV. If the TV was bigger you would see more of the world behind that window.
Sketch of motion in Surround Vision
With the system, the viewer is able to explore the space where the footage was taken by pointing the device towards the edges of the main screen.
Adapting the device for a First person Shooter type game
One use scenario is the access to different cameras than the one being shown on the main TV. During live sports events, given the number of cameras capturing the action, the viewer can see multiple angles by moving around the device.
The same idea could be applied to storytelling where parallel story development could be accessed by looking outside the TV with the device. The bad character could walk off the screen but the viewer with the device couls still keep and eye on him.
Adapting the device for a First person Shooter type game
Future uses of this technology may include gaming applications where on a First Person Shooter game, the main view of the player would be through a mobile device while the big screen would provide general information relevant to all the players like the map of the area to explore and the position of the the players and enemies.